Linking up again today for NSV's #2!
My husband and my oldest son have gotten milkshakes twice this week, and I didn't get one either time! I wanted it....I wanted it bad!! But, I didn't get one! :)
Still doing my treadmill, but also still need to step up the pace and get a little more of a burn out of my workout.
Staying optimistic about this scale stuff. I mean this has to start working sometime right? I have been looking into new ways to start dropping the pounds! (Cleanses, new exercises, stuff like that)
My cart at the grocery store this past weekend, looked way healthier than it ever has in the past!
Although I'm still frustrated that the scale isn't really going anywhere except up and down with the same three pounds....I'm proud of myself for changing bad habits, and for trying to become healthier.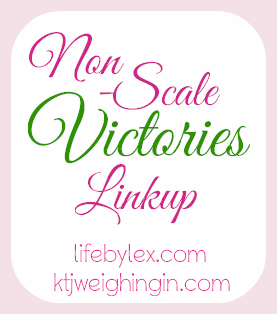 I'm not sure why the scale isn't moving....and I'll tell ya what...it is a HARD thing to deal with! I've been at this for 5 weeks now. I eat under 1280 calories a day....I drink water (not enough, I'm sure)....and the scale still isn't changing. I have never had this problem before. I will be 30 in July....and I've had 2 babies now, but I don't think these are good enough excuses! I think the Non-scale vicotories are a great thing to recognize, because it gives me the strength to keep going. There are so many thing going through my head when I'm on the treadmill. So many things I want to accomplish, and so many regrets about what I've let happen to my body. It's all hard to swallow. How did I get to the point that I need to lose about 60 pounds to get back to where I'm happy with how I look. How did I not have enough respect for myself to change it, before it got out of control? I struggle with these things on a daily basis. But I just have to keep going!
I'm thankful to have others who see the importance of motivating others to see their success in all aspects, not just a number on a scale! That is so important....for our overall sanity! haha. Hopefully next week....I'll be able to say I've dropped something beyond these 3 pounds that keep coming and going....but if I don't.....we'll keep working for the next week, right?
Happy Thursday blog world....we've almost made it to the weekend!!! :)